You are finally ready to launch your tshirt business, and now it's time to figure out the order fulfillment process for your online store. From selecting the best product packaging material to becoming a pro at assembling your orders, this article will walk you through all the steps of getting your orders ready and shipped out without a hitch.
Choosing the Right Packaging
There are a lot of choices out there when it comes to product packaging. Some companies have been using the same materials for years, while other companies embrace the latest and greatest new technology available. So how do you know what's best for your business?
Here's a list of common materials used in shipping products:
– Unprinted corrugated cardboard
– Printed corrugated cardboard
– Poly bags
– Corrugated plastic
It all comes down to what your product is, how much it weighs, how many pieces are in the order, and which materials you have available to work with. Let's talk about each option individually so that you can determine which one will work best for your business.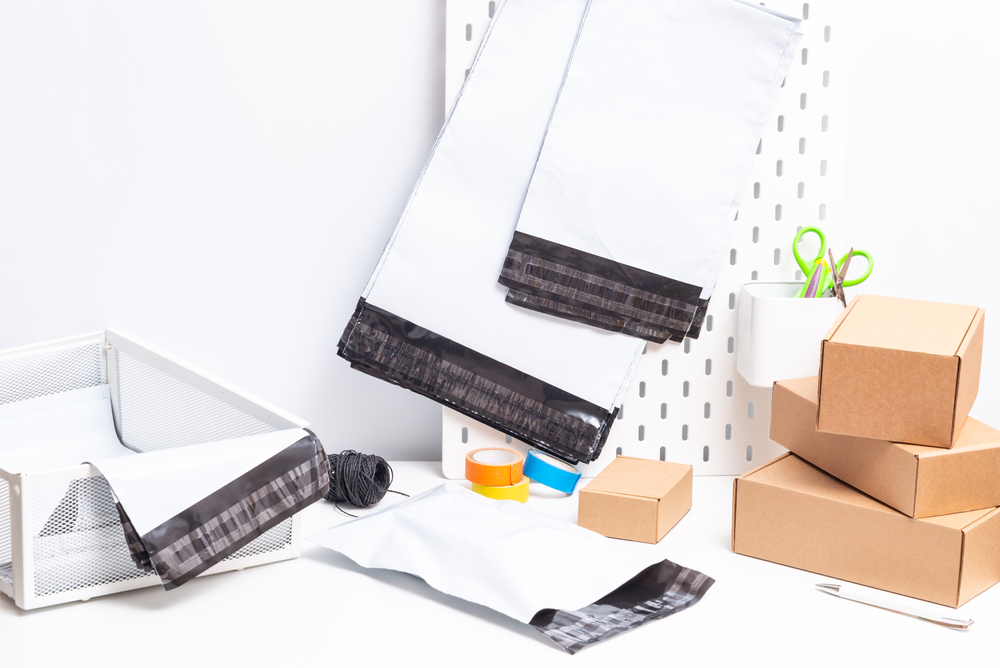 Unprinted corrugated cardboard is cost-effective and robust, which makes it a good choice if you're on a budget or want to store the boxes until they're ready to be used again. However, printing directly onto this packaging material can get expensive and more difficult considering each color must be printed at a time, which can affect throughput. If you're not printing onto the cardboard, then this could be an option, especially if your typical order is too large to fit into envelopes or bags.
Poly bags are great if you're selling something that's lightweight that could be damaged in transit because it provides an extra layer of protection to keep the product safe. Poly bags use less material than boxes, so they can save you money in product packaging costs.
Corrugated plastic is a good option if you want the product to be visible and protected from all angles, and especially useful if your product can't be crushed (like glass). However, this material could pose a higher shipping cost due to its rigid structure.
For a tshirt business, opaque poly bags are usually the most cost effective option, however, if your average order is more than just a few shirts, cardboard boxes will be needed.
Packaging Design Tips
You will need to decide what kind of unboxing experience you want to provide for your customers. When they open their package, do you want it to feel like an event? Are you running a subscription box service where customers get new tshirts each month? If so, you probably want to use custom boxes that really feature the tshirt(s) they are receiving and highlight your brand effectively.
Another aspect that needs to be considered is how much room you'll need in your box/bag, and choosing a product packaging material with enough space so there won't be any issues with fitting. If you can't fit everything inside an order because it's too big, then the customer (or you) will need to pay more money for shipping. It's best to err on the side of caution and make sure you're including enough space within the packaging material.
You will want to have different options available for different sized orders.
Assembly Tips
If your product requires assembly, then you'll need to choose materials that are compatible with the methods of assembling. For example, if your product requires gluing (glueing bags closed, for example), then it's best to use packaging materials that can be easily glued. If you choose a material like poly bags and the glue is not compatible with it, then it could leave behind a residue—which may damage the product or even worse, it could be transferred to other products in the order.
Always check with your supplier if you're not sure about certain types of glue and what it's compatible with, so you don't experience any issues that could arise as a result of using an incompatible method.
Shipping and Handling
If you ship your orders via USPS or FedEx, then you may want to consider the size and shape of the product packaging. Shipping carriers will use the actual weight of the order or the DIM weight, whichever is higher. Shipping in boxes that are entirely too big for what is inside, will cost you more money in shipping.
If you ship internationally, then the guidelines are even more stringent because customs may not accept an order if it doesn't meet their requirements (which could lead to you losing out on the sale). Wherever your orders are shipping to, make sure they're within standard size and weight tolerances so that there's no issue with getting your order where it needs to go.
If you're still not sure about the best product packaging material for your products, then it might be a good idea to consult with a 3rd party logistics company with experience in providing order fulfillment for a clothing store. It's better to get a second opinion than to take the risk of losing out on an order because of a simple mistake when choosing materials. Alternatively, there are lots of online resources that can help you to choose the right packaging materials for your products.
What to Do When an Order is Wrong or Damaged
Your goal is to provide the best customer service possible, so if an order has arrived at your customer's home and it is damaged or incomplete, then you'll need to know how to fix the problem. The first thing you should do is apologize and take responsibility for what's happened. Then explain to the customer what the next steps are to correct the problem, making sure that you stick with your company's stated policy of what to do when a product is damaged or you mailed the wrong thing.
It's common for a customer to be upset if they've received the wrong order, so again, make sure they know what steps you're going to take in order to fix the problem as soon as possible. This will go a long way towards appeasing your customers and keeping them happy. If your company's policy is to send a replacement or issue a refund, then make sure you let the customer know that this is what's going to happen and give them a timeframe for the process.
In the event of an order being delayed due to problems with the product itself, then you should be transparent and let your customer know what's going on. If an item is backordered or there's a delay in production, then you'll need to contact the customer and give them an appropriate time frame for when they can expect to receive their order.
When an order is delayed because of customer error, for example, sending the wrong shipping address or not filling out all of the required fields when placing an order online, you should politely contact the customer and ask them for the appropriate information as soon as possible.
No matter what happens, always keep good records of all communications related to order fulfillment problems so that you can provide lots of detail when talking with your customers about what's going on.
How to Communicate With Your Customers About Their Orders, Including Tracking Numbers and Shipping Updates
It is a good idea to contact your customers regularly throughout the order fulfillment process, not only if there are issues like missing items or delays. Send them an email confirming their order. Send another one when the order is being prepared. Send them one when it has shipped. Then follow up a day after they received their order to make sure they are satisfied.
If you've set up an online customer portal then this is also a great place for people to go if they want to check on their orders or see how things are progressing.
If you have time, then you can even have someone at your company go in and enter the tracking numbers for all of their orders so that they're able to check on things easily. If you are using an order fulfillment service, this is usually done for you automatically.
If you need to make contact with your customer and can't do so through your online portal, then it's best to send an email. Keep things short and sweet, and give them just the information that they need to know without a bunch of extra details.
If an order is being shipped out, then let them know when it should arrive. You don't have to get too specific or give a timeframe that's more accurate than what you're comfortable with, but you can usually estimate things like ground shipments based on the weight and dimensions of the package.
Wrapping Up
In this article, we've covered the basics of order fulfillment for your tshirt business. From how to pick the right packaging materials to how to communicate with your customers about their orders. There's plenty here that you should be able to use right away.
You'll find that these tips will make things easier for both you and your customers.