This new social media app is all the rage right now and may present new marketing opportunities for your business.
Through some shrewd marketing, Clubhouse has quietly but steadily been growing its user base and influence since first launching early last year. Some people see it as a competitor to Twitter and Facebook, but most people see it as an entirely different and unique concept.
Clubhouse is currently only available on iOS devices. You can only join by being invited by a current member. This marketing model has made it kind of like the exclusive velvet rope club that everyone wants to get into, but few actually do.
If you are not yet familiar with it, here is what you need to know about the Clubhouse app and how it might be useful for your business and connecting with customers.
What is Clubhouse?
Although it is a social media platform, Clubhouse delivers an experience more similar to an audio-only virtual conference than traditional social media outlets like Facebook, Twitter, or Instagram. Right now there are approximately 1 million users on Clubhouse after its initial launch roughly 1 year ago. At any given time, you will find a few thousand rooms where people are holding conversations about different industries, lines of business, marketing, or their latest favorite TV show.
There is no texting or posting in Clubhouse. Outside of your profile, everything is voice only. This makes it similar to a podcast, but there are no recordings.
How Does it Work?
Clubhouse is broken up into rooms. You can start your own Clubhouse room or join a room that someone else is running. Each room will have a topic that the creator has chosen. You will be greeted with a list of rooms based on the people you follow and clubs you have joined.
It's a good idea to pay attention to the people and clubs you follow. If you keep it tight around a few interests, you will be more likely to see rooms that match those interests.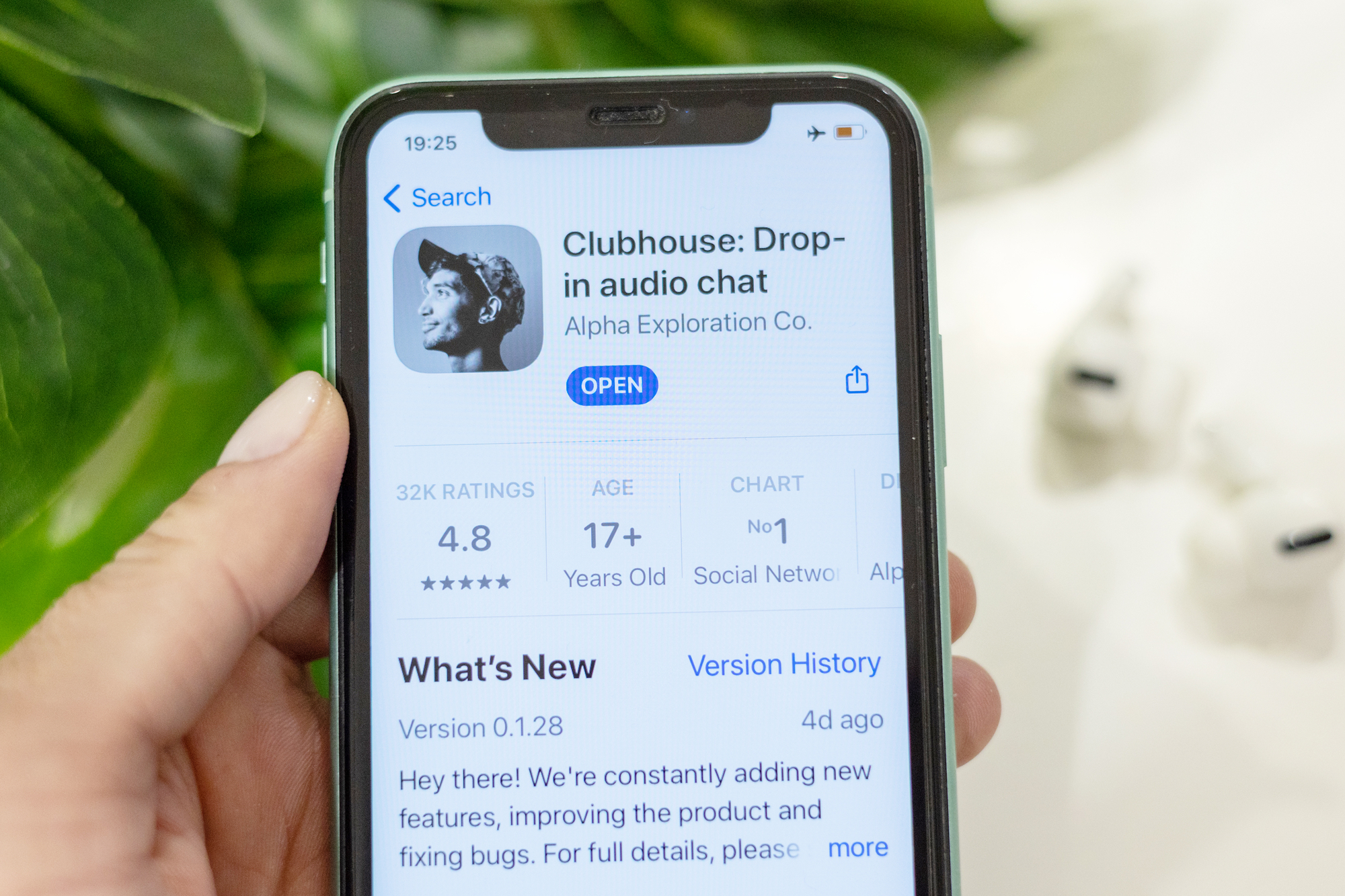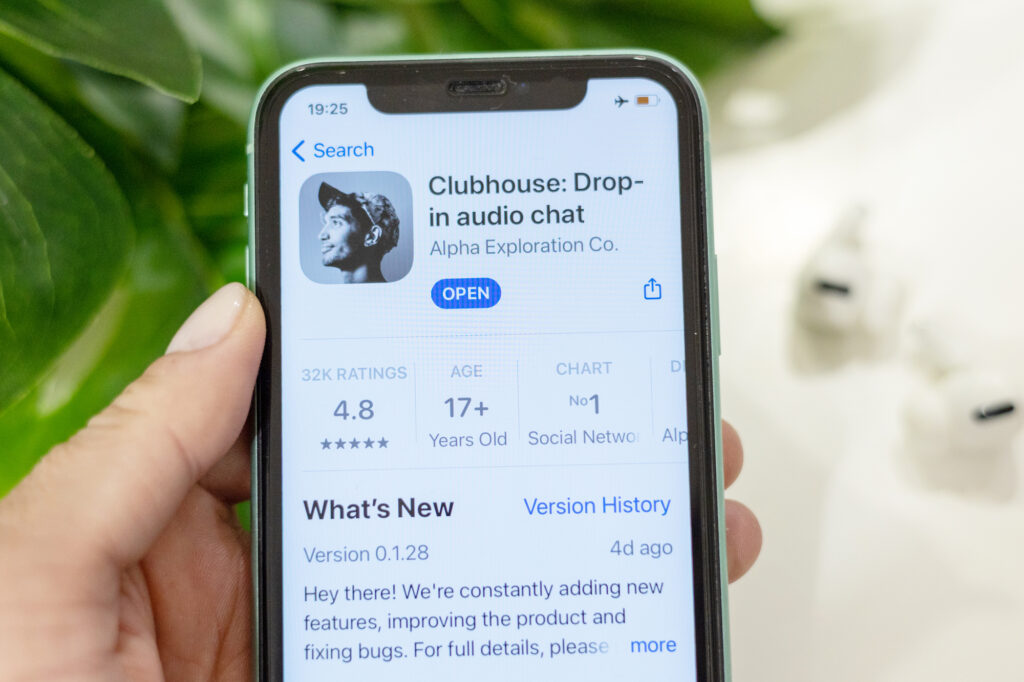 You can find people to follow by searching for them or by joining rooms. If you hear someone speak that you find worth following, you can quickly do so from inside the room.
When you join a room, there will be speakers on "stage". Everyone else is in the audience listening to them. There is an icon to tap to "raise your hand" to ask a question. The moderators can invite you to the stage to ask your question and interact with the other speakers before returning you to the audience.
Inside the audience is another section referred to as the Front Row. The Front Row consists of audience members followed by the speakers. If you like the speakers, you may also like the people they are following.
Fear of Missing Out
As mentioned above, there are no recordings of rooms for Clubhouse. To some, this might sound like a massive negative side to the platform, but it does play to people's fear of missing out.
If you have ever scheduled a webinar in the past, you will know that one of the most common questions you will get before the event is, "Will this be recorded?"
Sometimes, it's for a good reason. There might be an event in someone's schedule at that time already that they just cannot move. However, most of the time if there is a recording it makes attendees' commitment to attending the live event less solid.
Live attendance will be a fraction of those who signed up for it.
With Clubhouse that is not an option. If you are not in the room, you miss what happens.
The result is that people seem to be spending a good amount of time on the app looking for conversations about topics they are interested in.
How to Grow a Following on Clubhouse
As a business owner, the relative newness of Clubhouse can give you an opportunity to establish yourself or your brand on the platform as a trusted resource. By offering value in your field of expertise, you can develop real-world connections that can lead to business.
If you want to attract a following, it's going to be important to be active on the app. Unlike something like Facebook or Twitter where people can discover you and dive into your past posts, with Clubhouse people will only be able to engage with you when you are active.
You might want to dive right into large rooms with thousands of people, but the chance of being noticed and getting on stage is going to be a lot lower than if you start out in rooms with 15 to 50 people. Even 100 people might give you the opportunity to stand out and be invited on stage.
Of course, make sure the rooms you are entering and participating in are relevant to your line of business or expertise. Don't go into a room about YouTube content creation and start asking questions or talking about how to set up an Instagram account.
When you find good active rooms, it's a good idea to visit them frequently. If the speakers get to know you, they will be more likely to bring you up on stage regularly. The more you appear on stage, the more likely you are to gather followers.
While you are on stage, do not pitch yourself or your business (unless asked to do so by a speaker). Instead, focus on providing value. Either ask your question or answer a question without a lot of fluff. You will gain the interest of people in the room who will click on your profile to learn a little bit more about you. If they like what they see, they will follow you.
Followers will be notified every time you open a room or join a stage. You will find that you will have a regular core of people who generally join a room when you go live.
Build a Solid Bio
Your bio is where you can give people insights into what you know, why you know it, and who you work for. Your bio can also determine how people find you via searches in the directory.
You will want to include social media profiles where people can find you outside of Clubhouse as well as a call to action.
A great example we have seen people making use of is to include something like:
If you found what I said today to be of value to you:
Take a screenshot and tag me on your posts @usernamehere.
Follow me on @usernamehere for more tips and notifications of when I will be live again.
You can also partner with people in the industry who have their own following. When you invite people on stage in a room, all of their followers will get a notification and may join the room. Seeing you on stage with someone they follow will encourage them to follow you as well. The same goes for your following and the person you are partnering with. It's a win-win.
Utilize Clubs
Clubs are kind of like your own little community on Clubhouse. A club can have public and private rooms. The public rooms are open to anyone, the private rooms are just for club members. You can assign multiple moderators to your club, so you don't have to personally create and moderate every room.
In this way, as you grow you can expand your influence.
Get in Early
Right now is a great time to take advantage of the growth of Clubhouse. It will soon be expanding to Android devices and eventually opening up from its invite-only membership model. When that happens, we may see the floodgates open, so to speak. Early adopters who have spent the time growing and cultivating a following will benefit greatly from being an established presence on the platform.